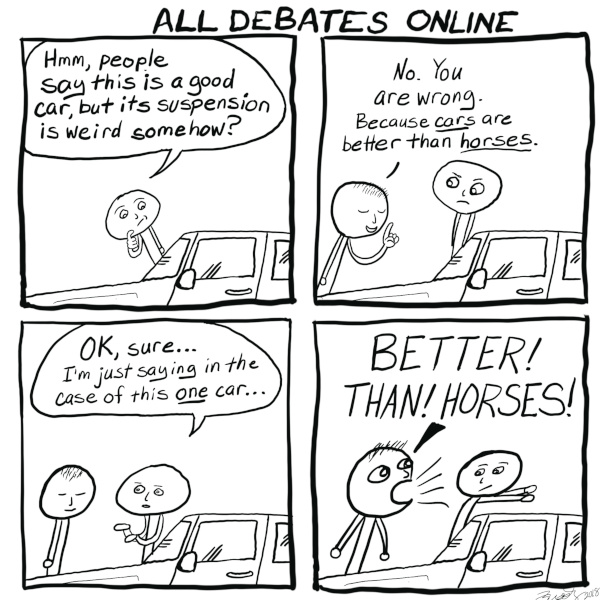 Weirding or just decadent?
A lot of people are angry at T-Mobile right now because there has been a rash of SIM jacking incidents against its customers, but what these whiners don't realize is that trying to get anything done in the age of fixed line phone calls and postal mail was vastly harder than it is today. They should be happy mobile companies built the infrastructure for texting and mapping on the go, y'know?
Okay! If you're a normal person, that opening paragraph inspired no small amount of fury. If someone gets robbed you don't remind them that they could have just lived in one of those parts of the United States where people don't lock their doors.
The counter-argument is a non-sequitur. It's related, but there's no direct clash.
But these days statements can't be made about how things tend to be or are likely to be; any observation that doesn't cover everyone is "problematic."
The trouble is, there are very few observations that can accurately be made of all humans. The world is fuzzy! We need to be able to talk about the world in fuzzy ways.
I'm going to give a controversial example: Ribbonfarm has a series of essays that came out this year called The Weirding Diary. I would argue that you can get most of what you need to get from it by reading the last post. He gives a mechanistic description based on the concentration of wealth that he expects to define everyone's choices over the next several decades.
The fundamental decision everyone will have to make is picking a fucking side.
The posts' author, Venkatesh Rao, writes of two political sides that have been driven so far apart that it is impossible for them to even communicate, even tho at each one's very extremes they start to come to the same conclusions for wildly opposite reasons. Life comes at you fast!
Yet the near extremes dominate the global conversation. This is, in no small part, because anyone who takes more moderated positions from which compromise might be possible are largely silenced by the people they primarily agree with.
He describes a situation where wealth and globalization has just thrown everything off kilter. WEIRD. But the question in my mind is: is it weird or is it decadent?
(It can also be both)
I've been thinking about our age as decadent because long before we realized just how fucking rich we are here, before it became clear that the world was suddenly dominated by the corporate equivalent of a gang of school age kids (Amazon, Facebook and Google), a scholar named Jacques Barzun finished his greatest single work (at the age of 93). I think it took me two years to read, but I did: From Dawn to Decadence: 500 Years of Western Cultural Life.
A lot of the book stuck with me. I think the crux of the book is this: We've gone from a young innovative culture to one that has descended into decadence, that is, one that's doing so well that it doesn't know how to deal with a life of plenty.
So has the world gotten weird or are its people just confused by plenty?
'Plenty, eh? That's fine for you to say...'
To whom much has been given